Top 5 Gutter Maintenance Tips: Summer and Beyond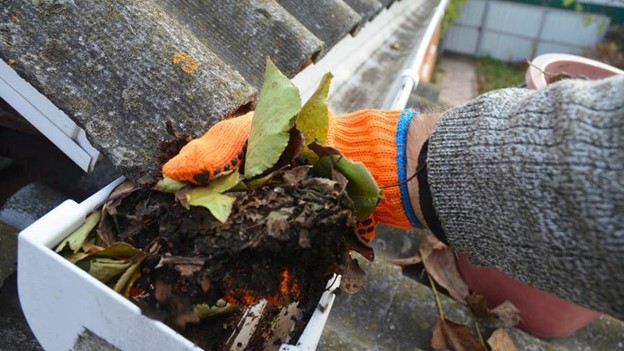 Gutters are often the unsung heroes of our home's exterior design. Providing proper and regular maintenance to your gutters will help you avoid any major repairs or damages.
Gutters are often an out-of-sight, out-of-mind chore for many homeowners. However, without proper maintenance, gutters will get you visiting your wallet often, trying to fix them. Properly maintained gutters not only ensure the safety of your home during storms or heavy rainfall but can also prevent your home from additional problems like mold or pests.
Don't let those minor gutter issues turn into something much worse. Save yourself some time and trouble and check gutter maintenance off your to-do list with these 5 gutter maintenance tips.
1.) Safety
The right tool goes a long way. Before you climb that ladder and embark on cleaning your gutters it is important to have the proper tools. You will want to make sure you have the basics like a pair of heavy work gloves, non-slip shoes, and good-quality safety goggles.
Next, you want to make sure you have a tall and sturdy ladder. The last thing you want is a wobbly ladder. For most one- and two-story homes a 20-foot or taller extension ladder will be your best choice. Make sure to plant your ladder on even surfaces, to keep it sturdy and make sure it stays in place. If there are power lines nearby or your gutters are taller than a story. It is best to call experienced professionals to avoid unnecessary risks.
2.) Cleaning your gutters at least twice a year
Regularly cleaning your gutters increases their lifespan greatly. This will ensure the exterior of your home stays spotless longer.
Each fall you probably have cleaning your gutters on your to-do list somewhere. However, it is important to do it more than once. Cleaning them in the summer is a great thing to add to your summer home maintenance list. A good general rule of thumb is twice a year at the end of a season.
By the end of spring, your gutters are prone to be clogged with dirt, leaves, and debris that have previously fallen on your roof. Clearing these each summer is vital to the preventative maintenance of your home. For those who live in rainy and high storm areas, your gutters are more susceptible to more frequent clogging of debris.
3.) Check for pests and rodents
There are many different types of small animals and pests that may have found a little home in your gutters. Termites, carpenter ants, mice, rats, and beehives are among the popular ones. Don't ignore these pests because they will become a big problem for you and your home later on and should be addressed immediately.
For starters, their nests will cause clogging in your gutters. Once the temperature drops outside, they will likely find their way into your home and cause an infestation problem.
4.) Clear the roof
Often, the debris that clogs your gutters most is from your roof. This can be from heavy rainfall, wind, or simply gravity pushing it down. Take safety into account when you go to scale such heights. Never go when it is icy, wet, or windy.
If the weather is in your favor, use a tool such as a rake to remove the debris from your roof.
5.) Inspect your downspouts
Just like you should clear your gutters regularly, you should do the same for the downspouts and any other pipes leading away from your home. It is important to check for any leaks, rust, or clogging. Also, to ensure that water is not draining too close to your foundation, make sure they extend several feet from your home.
Tacheny's Experts are Here to Help
As is any other home maintenance, the goal is to address these issues before battling endless repairs.
Proper maintenance of your gutters is important to the overall health of your home. Without proper care, you will potentially find yourself with a host of problems like clogging, pests, mold, and many more.
Do you want to save time and stress in cleaning your gutters and get them done right the first time? Call Tacheny at 651-337-4992 or visit our website. We're here to help with all your home's exterior needs.