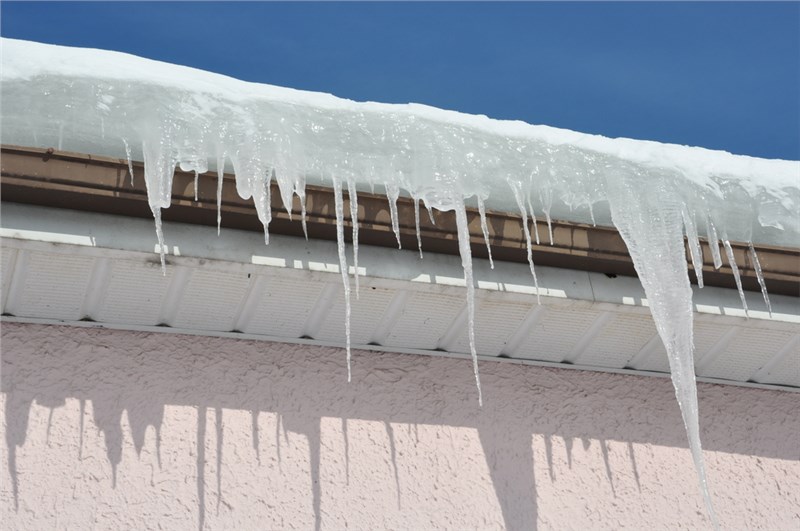 In Minnesota, winterproofing your home's exterior is perhaps the most important thing residents can do to ensure a trouble-free, warm, and pleasant winter. Aside from sealing up drafty windows and doors, repairing holes and cracks in your home's siding, and insulating your property's hot water tanks and pipes, another critical step to the process is preventing the formation of ice dams on your rooftop.

In this article, our expert team of Twin Cities remodeling specialists explains what ice dams are, and why they're so dangerous to our rooftops in the wintertime. If you're interested in doing all that you can to winterize your home's exterior, pay close attention to these important tips from our Minneapolis roofers on avoiding serious damage caused by ice dams for a better, more comfortable winter season.
What Are Ice Dams?
Ice dams are blocks of ice that form over the eaves of your rooftop—the part of the roof that meets or overhangs the walls of the home. When ice dams form after a freeze, they prevent water and snow from flowing off of the roof and onto the ground—instead, allowing a build-up of pooling water and slush to accumulate. The heavy weight of the ice and the sitting water can destroy your roof's materials and cause cracks—leading to severe damage and a leaky roof.
Fortunately, damage to your roof from ice dams can be prevented. In the following sections, you'll find some tried-and-true ways to keep ice dams from forming on your rooftop and causing damage. By adhering to these guidelines, you can successfully avoid an inconvenient and expensive disaster this winter.
Tip #1: Install an Ice and Water Barrier
If you're one of the thousands of homeowners planning roof replacements in Minneapolis this season, ask about having an ice and water barrier installed under the shingles. This form of underlayment is superior to traditional home underlayment techniques, as it works to successfully keep water and ice away from your roof decking and everything that lies underneath it.
While this option isn't likely to be feasible for those that are not already planning to have a roof replaced, it's worth thinking about for the future. Ice and water barriers will remove the headache and hassle of maintaining a rooftop throughout the winter season and can add value to your home construction if you're thinking about selling your home.
Tip #2: Use Your Snow Rake
If an ice and water barrier isn't an option this year, there is a simpler and much less expensive method to consider. Ice dams form when the snow melts during the warmer temperatures of the day and refreezes during colder temperatures, usually during the nighttime. A snow rake can be used to keep the snow from accumulating and turning into ice, by clearing it off before it reaches that stage of the cycle.

If you do use this method, make sure to be very careful. Climbing onto a slippery rooftop is quite dangerous, and those inexperienced in rooftop maintenance could run the risk of getting seriously hurt. Unless you know what you're doing, it might be best to leave this one to the professionals.
Tip #3: Prevent Energy Loss Near or Through the Roof
If there are holes, leaks, or cracks in your home's insulation, especially in the attic walls or near the roof, the hot air escaping from the inside of your home will cause snow to melt faster. Melted snow freezes into ice, which is the cause of ice dam formations. By keeping your home well-insulated and tightly closed to prevent energy loss, you'll not only prevent ice dams from forming on your rooftop—you'll also keep utility costs down as well.
Tip #4: Call a Roofing Professional to Winterize Your Home
The best way to prevent issues from arising in the middle of winter is to prepare for them before they happen. A qualified contractor can visit your home and help you determine the best way to prevent ice dam formations and other winter problems from affecting your home before it's too late.

A professional company like Tacheny Exteriors can clear snow from your roof and also help you to remove ice dams that have already formed. Ice dam removal can be very dangerous, especially during difficult weather conditions. Instead of doing it yourself, enlist the help of a qualified company to do it for you—using state-of-the-art techniques and equipment to get the job done right.
If you live in Minneapolis, you're probably aware of how important it is to safeguard your home against damaging winter storms. For more information on how our team of St. Paul roofers can help you prepare your home for the winter, or if you need a great company to perform repairs or replacements on an already damaged rooftop—don't hesitate to give us a call today. You can also fill out our online form to schedule a free, no-obligation consultation and pricing estimate with our Minneapolis roofing company today.