One of the most common questions this time of year is, "What Causes Ice Dams?"
The short answer is this:
1. Improper Attic Ventilation
2. Inadequate Attic Insulation
It's important to understand that both points above (proper attic ventilation and adequate attic insulation) need to be addressed in order to prevent substantial ice dam buildup. Ice dams are a very common problem in older Saint Paul and Minneapolis homes or any other older homes.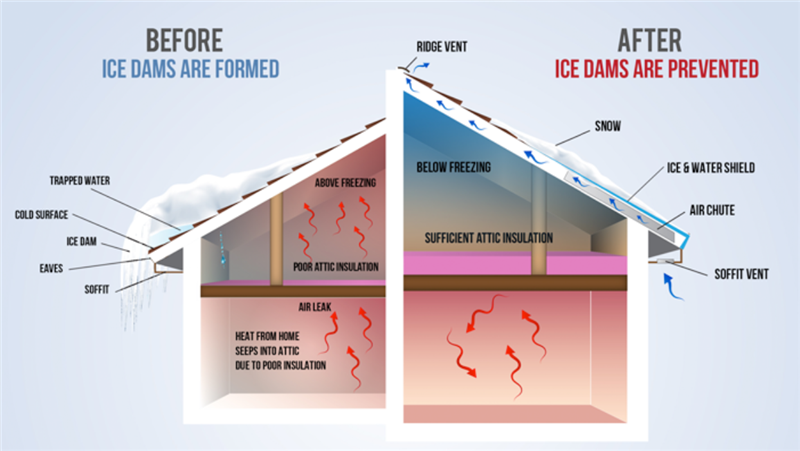 Possible solutions to solve your ice dam causes:
- Add insulation to your attic (insulation resists the transfer of heat into your attic - MN code is R49)
- Properly seal penetrations such as can lights
- Bath and kitchen vent hoses must be insulated and venting properly through the roof
- Make sure there are unobstructed air chutes installed between each rafter in your attic (this allows cold air from outside to move into the attic)
- Make sure you have adequate exhaust ventilation (various styles exist) near the ridge or "peak" of roof
- Remove snow from your roof or hire us to remove it professionally (be sure to not damage your shingles in the process). Even with properly ventilated attics and properly insulated attics, you can still get mild ice dams depending on the variables that are at play.
- Ensure there aren't any areas within your attic where air is getting trapped
For homeowners looking to learn how to insulate or ventilate knee-wall areas:
- Insulate the floor of the knee-wall and the outer unfinished wall of the upstairs living space to resist heat transfer into the knee-wall area
- Install gable vents on each end of the knee-wall space
- Install spray foam insulation (leaving an airspace of 1" - 1.5") in roof area between knee-wall and upper ridge section
If in the end you have ice dams and need them removed, we provide professional ice dam removal services and have been a professional ice dam removal company for many, many years. We use commercial grade steamers to remove the ice instead of hand tools which prevents damage to your roof. Selecting a professional ice dam removal company is extremely important - you really do get what you pay for when it comes to snow and ice removal.