Spring Cleaning Checklist for your Roof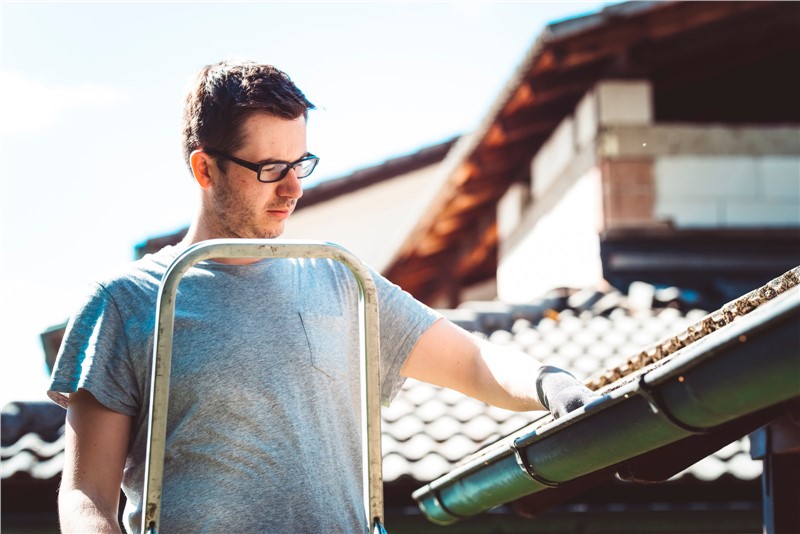 Springtime means warmer weather and longer days. For homeowners, spring cleaning doesn't just mean cleaning your air vents and hardwood floors; you should be sure to add the Tacheny 5-Point Healthy Roof Checklist to your projects!
Our roofing experts are here to help make your roof look younger and better this spring!
1. Clean the gutters
Throughout the fall your gutters get clogged with leaves, twigs, dirt, and other debris. If you didn't winterize your gutters by cleaning them out, snow and rain may have worsened the clogs. Even if you carefully cleaned out your gutters in the fall, time takes its toll. Now that spring has sprung, it's important to clean out your gutters so that they can do their job.
Cleaning out your gutters may seem tedious, but it's something that needs to be done to protect the integrity of your roof. If your drain system isn't working properly there is nothing protecting your shingles, siding, and more from damage. Unfortunately, damages can happen quickly and your roof may be compromised.
The first thing you should do is clean out all the visible debris from your gutters. Grab a sturdy ladder, take necessary safety measures, and get started. Once all visible debris is cleared, move to the downspout. While this requires a more intensive cleaning, it's one of the most important components of your gutter system—without it, the water cannot drain. We recommend using a hose or a plumber's snake for hard-to-reach areas. If all else fails, take the downspout apart, find the source of the clog, and put it back together.
Once your gutters are clean, check for any damage. Make sure there are no holes, nothing is sagging, and you're not missing any fasteners. If your gutters are damaged, it may be time to think about a gutter replacement.
2. Inspect the roof
The very first line of defense for your roof is the shingles. They're the small, rectangular pieces that cover your roof. While you work through your Tacheny 5-Point Healthy Roof Checklist, be sure to pay special attention to your shingles. There are quite a few things to look for, but try to examine as best you can from the ground or a sturdy ladder. Getting on your roof can be dangerous and should be avoided when possible.
Missing shingles: If you notice any missing shingles during your inspection, be sure to get them replaced as soon as possible. A missing shingle creates a weak spot in your roof making it vulnerable to damage such as flooding, molding, and rot.
Curling shingles: Curling shingles are typically caused by improper installation or poor ventilation. If you notice shingles with curling edges, get them repaired right away to avoid further damage to your roof.
Blistering shingles: Blistering occurs in shingles when there are excessive amounts of moisture trapped within the shingle. The "blister" is the moisture on the inside and if no action is taken the blister may burst—causing an array of more serious damages. Unfortunately, spotting blistering shingles can be extremely difficult, so it may be best to have

 

professionals

 

inspect your shingles.
Buckling shingles: Buckling shingles have the potential to crack and tear the infrastructure of your roof, so they need to be addressed right away. A buckling shingle is a moisture problem that has caused the framing underneath to shift. When spotted, get them fixed right away or you could find yourself needing a full roof replacement.
Stained shingles: The final way to inspect your shingles is to look for any signs of streaking or stains. Both indicate that there is a leak somewhere, or that your roof's ventilation system is damaged. Either way, you'll want to consult a

 

professional

 

to ensure that the underlying source of the issue is properly addressed.
3. Look out for mold
While you examine your roof, watch out for any signs of mold or mildew. When spotted early enough, it's usually easy to fix without any major issues. The longer mold or mildew progress, the more they seep into the roof sheathing and cause problems. First, try at-home remedies like zinc or lead control strips on affected areas. If the issue persists, call your roofing professionals for a thorough inspection. Don't take any chances when it comes to mold or mildew—if it spreads to the inside of your home, it's dangerous for you and your family.
4. Check from the inside out
When spring cleaning the roof, people often overlook checking the inside for any damages. Go to your top-level and take a look from the attic. If you spot any sources of light, you likely have a hole somewhere in your roof. Be sure to also check the inside for any water damage and mold/mildew growth. If you can't see anything, but you do smell something, don't ignore it. Call the professionals to come and pinpoint the source of your problem.
5. General wear and tear
This will occur naturally over time, so keep an eye out for general wear and tear as you're cleaning for spring. Whether it be large areas of rust on the gutters or parts of your roof that appear to be sagging, general wear and tear is typically easy to spot.
When in doubt, call in the pros
Keep in mind that while you may think you've covered all your spring cleaning bases, it's possible that your roof has incurred damage that can't be seen. The small details are hard to notice if you're not sure of what to look for. It's common for non-professionals to miss small holes, rusting, and blistering.
Some people may want to work through the Tacheny 5-Point Healthy Roof Checklist on their own, but untrained eyes often overlook things. Also, it's dangerous to get on your roof! Professionals can not only get the job done quickly, but you can rest assured that nothing was missed during the inspection. The roofing experts at Tacheny have the expertise and experience to provide you with a comprehensive inspection—both inside and out.
When you hire an experienced Tacheny roofing contractor, we can guarantee that the job will be done efficiently with no hidden costs. We will only repair what's needed and preserve all areas of your roof that are still in good condition.
We'd love to assist you with spring cleaning your roof. Contact our roofing experts by giving us a call at (651) 565-1615 or visit our website to get started.