Prepare Your Roof for Fall and Winter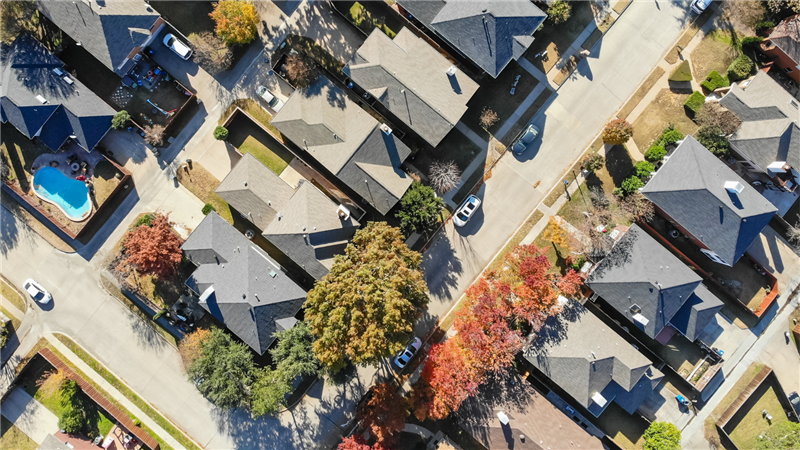 As fall begins and the kids are getting back into the swing of school, we are reminded that the falling leaves and chilly temps are right around the corner. Fall is a magical season, but it's also the time of year when we should button up our jackets and our homes. Between now and winter's first frost, there are a few things you can do to prepare your roof for severe weather.
Clear off Debris
It's important to remove pine needles, leaves, and all other debris from the surface of your roof and the gutters. Even the smallest fragments of debris can hold moisture and cause mold or rot, which will break down your roofing material over time.
If you're experienced and confident in walking around on your roof, get up there and sweep or blow off the debris. Pay extra attention to the valleys–which are the most susceptible to water damage. Ensure they are free and clear of gunk to allow water to flow.
Clean the Gutters
When leaves, dirt, etc. collect in your gutter system, eventually, it will build into a blog in the downspouts. If your gutters are clogged, rainwater will overflow–causing damage to your trim, siding, and roof. The added weight of wet debris and water could also cause your gutters to loosen from their anchor point or even collapse.
To prevent these problems and unforeseen repair costs, be sure to keep your gutters relatively clear through the fall. Once the trees surrounding your home are clear of leaves, do a thorough gutter cleaning. Another way to get ahead of the fall season is to install gutter guards to prevent the collection of debris in the first place.
Check for Deterioration and Damages
Once your roof is clean, scan the surface for any missing or damaged shingles. Signs of damaged shingles include cracks, curled, or frayed edges. You can utilize binoculars to inspect from the ground or climb up to the roof to take a look.
Additionally, check for damaged flashing around skylights, chimneys, and vent stacks. These areas are the typical suspects when you notice a leak. A DIY flashing repair may not always provide the best results–to ensure success give the experts a call and we will ensure your home is properly sealed before the cold weather hits.
Attic Insulation and Ventilation
Without proper airflow in your attic, you could be looking at unnecessarily high energy bills and leaky ceilings in a snowstorm. Throughout the day, sunlight hits your home and heats the air in your attic. Without vents located at the ridges, soffits, and/or gables of your roof, the hot air will condensate. This will cause moisture damage and possibly rot or mold in your roof's supports.
This heat can also bring about ice dams in higher elevations–inviting leaks when snow hits your roof.
Additionally, when that hot air is trapped, it will seep in and overheat your living space–requiring you to keep your AC going longer than you should have to. This is one reason why insulation is critical to an energy-efficient home.
Need a Roofing Evaluation or Repair?
See why fall is a great time to repair your roof and contact Tacheny today for a free estimate! Call us at (651) 358-2388.