How to Pick the Perfect Color Palette for Your Home's Exterior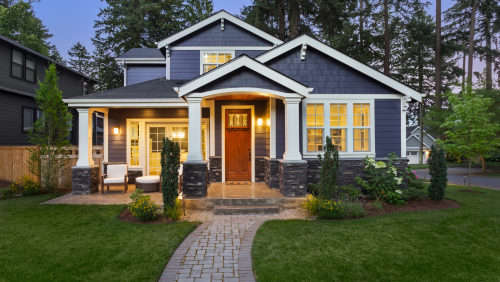 Unlike your interior color palettes, exterior hues can impact the entire street. That can put a lot of pressure on homeowners when it comes to selecting a palette. Additionally, there are a lot of other factors that come into play with the outdoor space–hardscaping, landscaping, roofing, and more.
Use these tips from the professionals at Tacheny to choose a color scheme that works for both your style and your home's surroundings.
1. Plan Around the Most Permanent Elements
Unless you are fully renovating your home, surfaces such as roof tiles or shingles, pathways, stonework, and driveways will remain as they are. Take these elements into consideration as you select colors for your home's exterior.
Search for undertones between them that might inform your palette. Are they warm (khaki, beige, and brown) or cool (black, gray, and blue)? Consider paint colors that will complement these fixed elements in a harmonious way.
2. Consider Your Home's Era and Architectural Style
Whether you have a midcentury modern ranch, a Craftsman bungalow, or a Queen Anne Victorian, your exterior color palette should feel appropriate for the style. Picture a New England saltbox in a pale mint, or a classic Federal-style painted burnt orange. Pretty jarring, right?
A majority of paint manufacturers offer collections of historically accurate colors–this can be an excellent springboard for your palette. You definitely do not have to chain yourself to historical guidelines unless the codes for your neighborhood/home specify otherwise. However, to get the most appealing look, you shouldn't stray too far from them.
3. Consider the Visual Effect You Want
Take a step back and look at your home's relationship to the street and landscape. Does it sit amid a cluster of large trees or back from the road? You might select a slightly brighter or lighter color so that it stands out. Contrarily, a darker hue can give a more receding illusion.
4. Choose Multiple Paint Shades
Put simply, an exterior color scheme has three major parts:
Field color (dominates)
Accent color (brings shutters, doors, and other small features to life)
Trim color (for window and dor castings, railings, roof edging, and other trim)
Ideally, the trim color will contrast strongly against the field color–although some designers will opt for a more monochromatic color scheme.
If your dominating hue is dark, consider a pale or white trim shade. A light field color can serve as eyeliner for your home–providing a crisp, dramatic effect. Don't be afraid to go bold with accent colors, but don't go overboard. It's a delicate balance. A bold bright red or lemon yellow door could add the perfect accent, but extending that shade to the gables and shutters may be extreme.
5. Never Rely Solely on Paint Chips
Color shades can vary significantly from how they appear on the chip–and painting the exterior of your home is a much larger undertaking than a single room. You will want to get it right the first time.
Purchase a quart of paint and test it out on a hidden area of your home. Inspect it during various times of light and different weather conditions.
Elevate Your Home's Exterior with Tacheny
Tacheny serves as a singular resource for homeowners, providing high-quality and long-lasting work on all aspects of your home's exterior.
Contact us today for a free cost estimate from a Tacheny contractor. Just fill out our online form or give us a call at (651) 565-1792.