How to Know Whether to Repair, Patch, or Replace Your Roof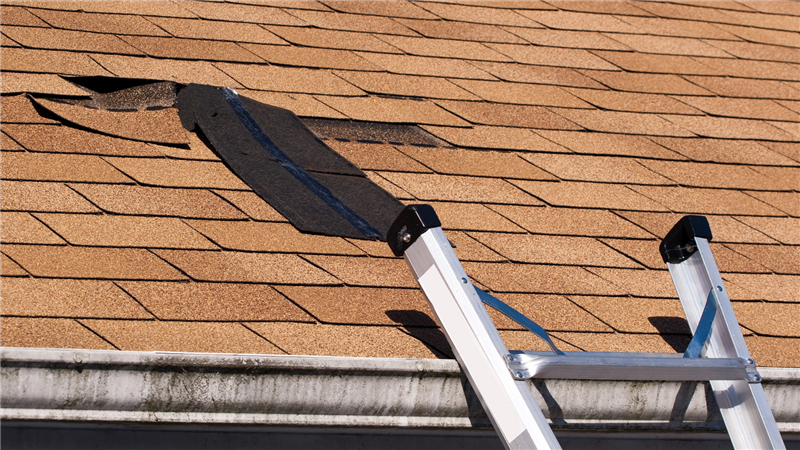 Your roof is one of the most important parts of your home. It is the primary protector of your home (and yourself) from anything that might fall out of the sky. With proper care and maintenance, a good roof can last a long time.
Unfortunately, no matter how much you care for your roof, it will eventually face damage, and you will have to decide if it's time to repair or entirely replace your roof. Repairing your roof can oftentimes be the correct solution–but sometimes a repair simply isn't enough. Tacheny is here to help–below we will cover ways to recognize roof damage and help you decide whether a repair or replacement is right for your roof.
Signs of Roof Damage
Sometimes roof damage is obvious, other times it's subtle. To recognize the signs that something is wrong, you'll need to know what you're on the lookout for and inspect. This might mean you inspect your roof any time you experience extreme weather, or just because you know your roof is getting old. When inspecting your roof, it's important to look at the interior as well as the exterior. Roof damage can occur anywhere.
When inspecting the exterior of your roof, there are a few specific things to look out for. The first is the presence of any water spots and/or discoloration. These small areas of water damage will warp the shingles and exterior finish. Pay extra attention to the spots where the exterior walls meet the roof. This transition line can often become distorted when there's damage.
When inspecting the roof, be sure to look at the gutters as well. A sign of roof damage is clogged gutters with little granules. The granules come from shingles and show they are either damaged or have been exposed to too much sunlight. Inspect your shingles. If you notice they are cracked or cupping, this may mean the shingles are starting to break down for whatever reason. Could be a result of severe weather or poor ventilation from the inside.
To monitor your roof's interior damage, inspect any attic space and rooms close to the top of the house. Water damage will eventually warp the walls and ceiling of the rooms below the roof. You may even notice drops of water in the middle of the room.
If you notice any outside debris inside your home, this might mean there is a hole somewhere in your roof. Search for where the debris may have snuck in from to locate any potential holes.
All of the signs mean you need to take immediate action. Recognizing the issue is the first step–now you'll have to decide whether it's time to repair, patch, or replace your roof.
When to Repair or Patch Your Roof
In most situations, roof repair is the right choice. It can prolong the life of your roof if it is in mostly good condition.
Consider the age of your roof. If your home is relatively young and the roof is decently new, chances are you'll be able to repair the damage. If your roof is under a warranty, you can contact your manufacturer for repairs.
Another item to consider is why the damage happened. If you know when and how it happened, it should be easy to determine if repair is enough. For example, if there was a major storm in your area recently, chances are the damage resulted from that. Damage resulting from the weather can usually be repaired. The exterior damage will likely be visible.
Lastly, consider the extent of the damage. If it's something small, like a missing shingle or two, you should be able to repair your roof without issue. More extreme damage, may not call for a full replacement, but instead, professional assistance in repairing the damage.
When it's Time to Replace Your Roof
Inevitably, your roof's life will eventually come to an end. The older your roof is, the less efficient spot repairing will be. You can continue repairing your roof for as long as you'd like, but there comes a time where repairs will ultimately be more costly than a full replacement. If your roof is nearing the end of its 20 to 30-year warranty, it's likely time to replace your roof. If you're unsure of the age of your roof, it might at least be time to get an inspection and find out where it stands.
If your roof's damage is extensive, you may also need to consider replacement over repair. Damage can be repaired up to a certain point. If the damage has begun to affect the structural integrity of your roof, it is definitely time to replace it.
If you notice large amounts of water damage or leakage within the interior of your home, replace your roof immediately. The top priority should be getting a solid roof over your home as soon as possible.
Keep Your Roof Healthy with Tacheny
Whether it's time for a repair or a replacement, you'll want to take action immediately. The longer your roof sits damaged, the more at risk your entire home is.
For questions about roof repair or replacement, give Tacheny a call at (651) 337-4992 or visit our site today to set up a free consultation. We're here to help with all of your roofing needs.