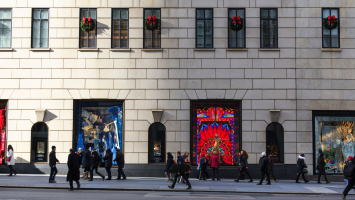 One of the most well-known holiday movie scenes happens in "A Christmas Story," and takes place at the Higbee's department store window display. This is where Ralphie first spies the Red Ryder BB Gun–the thing that sparks his Christmas dream and drives the narrative of the film.
Even if you're familiar with this scene, you may not know that Higbee's was an actual department store. It was located in Cleveland, Ohio, and was known for its elaborate window displays.
The store's Vice President at the time, R.Bruce Campbell, allowed the filmmakers to film inside the department store. He even offered up store employees to do makeup, styler hair, and feed the crew. Many employees made their movie debut as extras in the film as well. There was only one catch involved: Campbell would allow all of this only if he was guaranteed that there would be no profanity in the film. The producers agreed. This deal is the reason for certain nonsensical sections of dialogue and why we hear Ralphie say "FUDGE," instead of the word he clearly used.
Holiday Window Displays
These store window displays were a key feature in the Great Depression. In Today's world, it's easy to underestimate the importance of such a display–its electric lights (uncommon in households in the '30s), trains, tinsel, animatronic figures, and more.
Window displays are as much of a holiday staple as Santa himself. You will find the most extravagant ones in some of the biggest cities across the globe.
Places like Selfridges in London and Galeries Lafayette in Paris, as well as full blocks of Fifth Avenue in New York City–spare no expense in creating works of holiday window display art.
Boutique Window Designs and Displays
There are a number of stores that have mastered the art of boutique window displays for many years now. Here are some of our favorites:
Harrods, London. Harrods is London's most famous department store. It's also known for having some of the most extravagant window displays.
Bergdorf Goodman, New York City. Last week, Bergdorf Goodman celebrated the holiday season with style. They unveiled their window displays before tourists, families, and fashion enthusiasts. These displays have been celebrated in New York for decades. They have been featured in documentaries and coffee book tables–but this year they also held a special significance and sense of triumph after a trying year for the city.
Brown Thomas, Dublin. Brown Thomas takes the cake for the earliest holiday window reveal! They unveiled their famous window display a whole 127 days before Christmas. After many experienced an unusual holiday season last year, Brown Thomas' windows celebrate the cherished moments spent with loved ones.
Window Experts of Minnesota and Arizona
Windows are important not only for protection but also for allowing us to take in all the beauty the world has to offer.
Windows are an investment that will increase your home's value and significantly improve its overall look. New windows from Tacheny–an Andersen Certified Contractor carrying both Andersen and Marvin windows, will also increase the amount of natural light your home receives, soundproofing, and energy efficiency.
To get started give Tacheny a call today at (651) 213-9221 or visit us at https://www.mytacheny.com/replacement-windows/ for a free estimate or to schedule a consultation to find the right window solution for your home.
Avoid damage to your home with these holiday decorating safety tips from Tacheny.