Holiday Decorating Dos and Don'ts–Dress up Your Home without Damage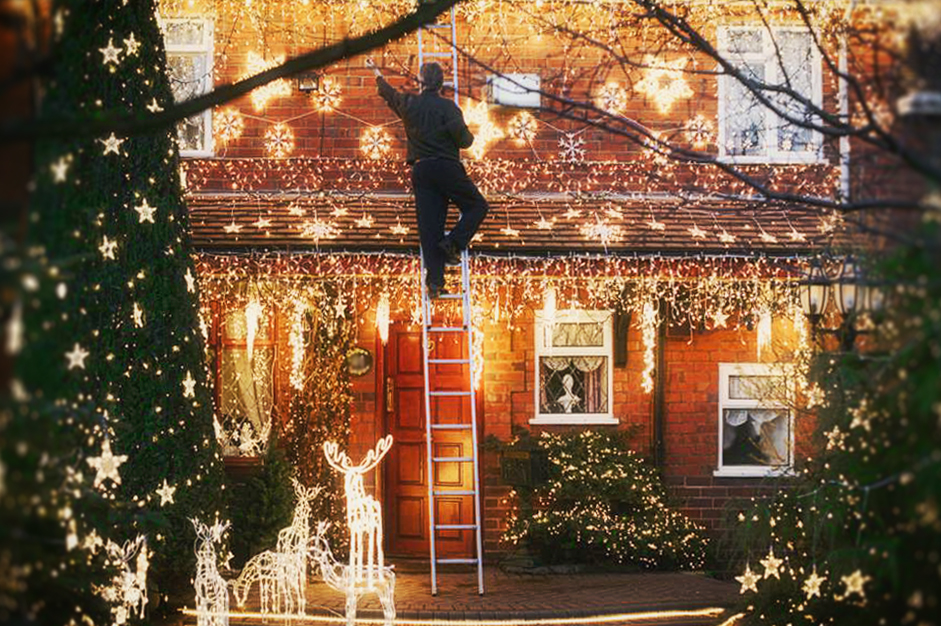 The light displays seem to get more and more extreme each year. At one point, Clark Griswold's decor in "Christmas Vacation" was over-the-top and funny, but now you've probably seen houses in your own neighborhood that are even more lit up. While it may seem all in good fun, adding lights to your roof, windows, and siding can damage your home and leave behind scars and holes. Decorate smart this year!
Safety Above All
You won't get much joy out of your holiday lights if you hurt yourself in the hanging process. Remember to read all instructions that are included with your decorations and ensure that all electrical connections are dry and clean–never overload an outlet. Do not use your indoor extension cords outside and don't put multiple extension cords in a string.
Ladder safety is also crucial in holiday decor safety. Work with a partner and follow the American Ladder Institute's advice, always keep three points of contact with the ladder, and wear dry, clean, and slip-resistant shoes.
Staple Sheets of Paper, Not Your Home
Utilizing a staple gun to attach holiday lights will get you on the naughty list. Using screws, nails, staples, or any other penetrating fastener to secure your decorations is not a good idea for ensuring the longevity of your exterior. Any puncture through roofing materials can lead to leaks and other damage.
In addition to potentially damaging your home, staples could also damage your lights. A single staple misfire could destroy an entire strand of holiday lights. So just put down the staple gun.
There are a variety of plastic clip options available that can safely and securely hold lights to any surface. These hooks and clips can be just as simple to install as staples and will keep your home from looking like it was attacked by a swarm of woodpeckers following the holiday season.
Siding Holiday Safety
You want your siding to be eye-catching in a positive way–not because it's damaged. Vinyl siding clips can be used to safely string up lights across the side of your home without the mess of nails or glue. You just slide the clips under your siding and you're ready to decorate. When you're ready to get out of the holiday spirit, simply lift them off and enjoy your damage-free siding.
Tree Light Safety
While some light stapling won't kill a sturdy tree, removing them can be a hassle that no one wants to tackle on a cold January day. Simply draping the lights over the branches can leave your exterior aesthetic looking messy. There are also tree clips available to streamline this process and be kind to your trees.
Elevate Your Exterior this Holiday Season
Give yourself the gift of an eye-catching exterior with Tacheny. Tacheny Exteriors is a one-stop shop for all of your home's exterior needs. Our contractors are highly skilled and trained to notice signs of damage that are often overlooked. Our team would love to answer any questions you have about your exterior's maintenance, care, and potential for a fresh look.
Contact us today for a free cost estimate from a Tacheny contractor. Just fill out our online form or give us a call at (651) 565-1792.