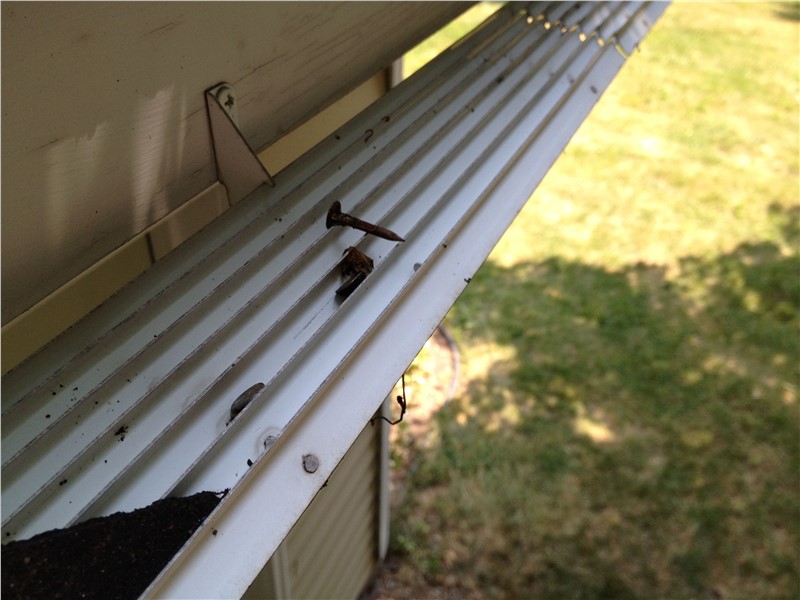 In order to avoid major repairs, it's important to keep up with regular maintenance and cleaning of your home's gutter system. Below we explore frequently asked questions regarding gutter maintenance and care.
How do I Know it's Time to Clean My Gutters?
You'll know it's time when you can spot significant dirt, twig, or debris buildup in your gutters. A good practice is scheduling a cleaning at the end of each spring and fall season to ensure you aren't leaving excess weight to damage your gutters. Heavyweight sitting in your gutters can loosen the fasteners and cause them to pull away from your house–this would be a much bigger problem.
Why do My Gutters Need to be Cleaned?
Not only will debris put strain on your gutters and gutter fasteners, but clogged gutters also won't properly direct the fallen water away from your home. Clogged gutters may lead to basement leaks, moisture damage to your roof and siding, cracked wall foundations, and other problems.
How do I Clean Gutters?
If your gutters are simply clogged with debris, you'll need to find some time to manually clear them out. This may be as simple as grabbing a pair of gloves, a hose, and a ladder. Depending on the layout of your home, it might become a time-intensive project. If you're tackling the project yourself, be sure to use a safe and sturdy ladder.
Clear your roof.

 

Never go out on the roof when it is icy, wet, or when there are strong winds. If the weather is clear and calm, use a rake to remove any debris.
Check for leaks, rust, and holes.

 

Once you've cleaned out your gutters, be sure to inspect them for signs of leaks and rust. Take a look at the gutter joints as well. You may be able to repair small holes or leaks, but if there is rust, it means your gutters have reached the end of their lifespan and it's time to

 

replace them. For information on materials that don't rust, contact

 

Tacheny Exteriors.
Check the downspouts.

 

Check for signs of damage or clogging in the downspouts. Ensure that they're extended several feet away from the house.
How can I Keep My Gutters from Getting Clogged?
Installing gutter protection is an effective way to prevent sticks and leaves from jamming up downspouts and gutters. While adding gutter guards requires an initial investment, it will save you time and money by minimizing the upkeep required and protecting your gutters from damage.
What Damage can Unmaintained Gutters Cause?
Unmaintained gutters can cause damage around your home. Here's what you can expect:
Foundational.

 

Underperforming gutters will put your home's entire foundation at unnecessary risk. One of the primary functions of a gutter system is to displace the water that would otherwise erode the soil around the foundation. You'll definitely want to avoid foundation repairs as they are rather expensive.
Basement Flooding.

 

The more water that lands at the base of your home, the higher the risk of water entering your basement. Preventing water from entering your basement can help you avoid problems such as mold and mildew, as well as preserve your walls.
Sidewalks, Driveways, and Other Finished Surfaces.

 

A reliable gutter system is an investment in the protection of your sidewalks, driveways, and patios. If water is being moved from these paved areas, it's less likely they will be shifted or eroded by rain/snow from the roof.
Pest Infestation. Clogged gutters create the perfect breeding ground for mosquitos. They love stagnant water, so clogged gutters are great safe havens for mating mosquitos. If you've noticed quite a few mosquitos buzzing around your home, your gutters would be a good place to look. Older adults and young children will be much safer without mosquito breeding grounds on your property.
Not Sure What Your Gutters Need?
For questions about gutter repair, replacement, or protection, give Tacheny a call at (651) 337-4992 or visit our site today to set up a free consultation. We're here to help with all of your exterior needs.