Ensure Your Minnesota Home is Ready for Winter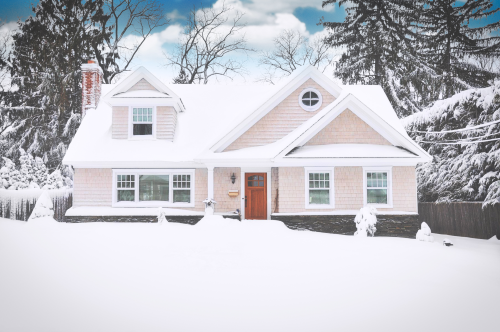 Winter weather can be lovely, but it takes a toll on homes. Make sure your house is prepared by taking a quick walk-through and following these tips.
Have Your Sprinkler System Drained
Most people are familiar with the process of draining water lines to prevent them from freezing, but did you know that your sprinkler system should be included in this? Water left in your system can freeze and cause damage when it expands, so make sure to have it completely drained by a professional.
Inspect Your Roof and Gutters
Your roof takes the brunt of the winter weather, so it's important to make sure it's in good condition before the first snowfall. Start by inspecting your gutters and making sure they're clean and free of debris. Clogged gutters can cause water to back up and freeze, damaging your roof and eaves. Consider covering your gutters with guards to prevent debris build-up. While you're up there, take a look at the condition of your shingles and make sure there are no loose or missing ones.
Seal Any Cracks or Gaps
To prevent heat from escaping and cold air from coming in, go around your home and check for any cracks or gaps in the exterior. These can be found around doors and windows, as well as in the foundation. Use caulk or weather stripping to seal any openings, and make sure your doors and windows are properly insulated.
Protect Your Pipes
Pipe bursts are one of the most common winter home disasters. To prevent this from happening, start by insulating any exposed pipes in your home. You can also let a trickle of water run from your faucets during cold spells to keep them from freezing. If you're going to be away from home for an extended period of time, make sure to shut off the water in your home to prevent any leaks.
Clean Your Chimney and Fireplace
If you have a fireplace, now is the time to have it cleaned and inspected. This will help prevent any fires or smoke damage, and it's also a good opportunity to make sure your chimney is in good repair.
Prepare Your Heating System
Your furnace works hard to keep your home warm all winter, so make sure it's up for the task by scheduling a tune-up. This will help your system run more efficiently and prevent any breakdowns during the coldest months. You should also change your furnace filter regularly to ensure optimal performance.
Cover Vents To Prevent Nesting
Animals are looking for warm places to nest during the winter, and your vents are a prime target. To keep them out, cover your exterior vents with wire mesh screens.
Trim Tree Branches
Overhanging tree branches can damage your roof or scratch your car, and they're also a potential hazard if they fall during a winter storm. To avoid any problems, trim back any branches that are close to your home.
Stock Up on Winter Supplies
From shovels and salt to firewood and flashlights, make sure you have everything you need to weather a winter storm. It's also a good idea to have an emergency kit on hand, just in case.
Tacheny is Here to Help You Protect Your Home
By following these tips, you can rest assured that your home will be ready for whatever winter throws your way. And if you need any assistance, the professionals at Tacheny Exteriors are here to help. We offer a wide range of services, from roofing and siding to windows and doors. Contact us today to learn more about how we can help you prepare your home for winter.