Best Siding for Arizona Homes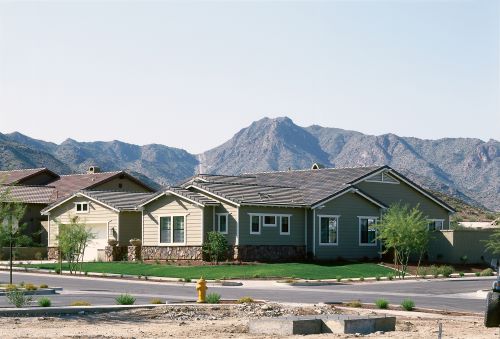 Your home exterior's style and appearance hinge upon the siding you choose, but beyond that, it also offers much-needed protection from your region's harsh climate. Whether it be enhancing energy efficiency or safeguarding against seasonal monsoons and scorching sunshine, the right siding can go a long way in helping protect both you and your house.
For residents of Phoenix or Arizona as a whole, this means using a material that can not only withstand intense sunlight but also help keep out excessive heat from entering your home. Ideally, your siding is able to do this without compromising on the style of your home.
Typical Siding Issues in Arizona
Many homeowners in Arizona have found that some of the more conventional siding materials can be difficult to maintain in the climate, often requiring regular repairs. Because of this, some homeowners are discouraged from investing in certain home styles they may prefer due to the added maintenance costs associated with them.
In Arizona, siding is significantly impacted by the persistent high temperatures. As it's not unusual for temperatures to soar above 100°F and remain that way for days or weeks at a time! This can cause typical siding materials such as vinyl, wood, or aluminum to expand and contract, resulting in warping, cracks, and other issues.
Best Siding for Arizona Homes
If you're drawn to traditional homes and siding, but don't want the maintenance issues that come with Arizona's scorching climate, fiber cement siding is an ideal choice for your home. Fiber cement won't be damaged by the state's extreme heat or arid atmosphere like other materials.
Fiber cement siding offers a perfect combination of strength and beauty. Not only is it more durable than wood, but unlike metal or plastic types of vinyl, the boards won't shrink or expand due to extreme temperatures. Plus, its finish will not bubble, peel, or flake–saving you time and money on maintenance costs over its lifetime.
Benefits of Fiber Cement Siding Phoenix Area
Not only is fiber cement siding simple to install over insulation, keeping your home cool and energy-efficient in the sweltering summer months–but it's also eco-friendly! You can take comfort in knowing that you have made a responsible decision when selecting your siding and its effects on the environment.
The best part is, you can find a fiber cement siding product that blends in perfectly with your home's style. From cedar-look shingles to architectural panels, it's possible to recreate nearly any look or aesthetic while still taking advantage of all the significant benefits provided by this material when used as horizontal lap siding.
James Hardie Fiber Cement Siding
James Hardie, an industry leader in fiber cement siding, offers an extensive selection of products that are specifically designed for your climate and conditions. Their products come in a variety of colors and textures so you can find something to perfectly suit your home's style.
Many of their products also feature ColorPlus Technology–a finish that's baked on, rather than painted on–which not only makes the color last longer but also prevents fading. This means you can enjoy your home's stylish exterior without having to spend countless hours or money on regular maintenance and upkeep.
If you're looking for a siding option that offers maximum protection from blistering temperatures and is stylish and easy to maintain, fiber cement siding is the perfect choice for Arizona residents. With Tacheny's selection of James Hardie products specifically designed for Arizona's climate, you can have the best of both worlds–style and durability!
Efficiency, Durability, and Beauty with Siding from Tacheny Exteriors
With Tacheny Exteriors, you can find the perfect product for your home's exterior. We offer an extensive selection of siding to suit any style and budget so that you get the best look and protection from Arizona's unpredictable weather.
For more information on our siding products or to book a consultation with one of our experts, contact us today! We're ready to help you find the perfect siding that combines style, durability, and energy efficiency for your Arizona home.