Areas We Serve
Originally founded and still headquartered in St. Paul, MN, Tacheny Exteriors has since expanded our reach to serve homeowners in the Phoenix and Western Wisconsin markets. While we've grown to offer the capabilities of a national enterprise, we still maintain the family name and values that have made us a trusted partner for generations.
Services
Tacheny serves as a singular resource for homeowners like you, providing high-quality and long-lasting work on all aspects of your home's exterior.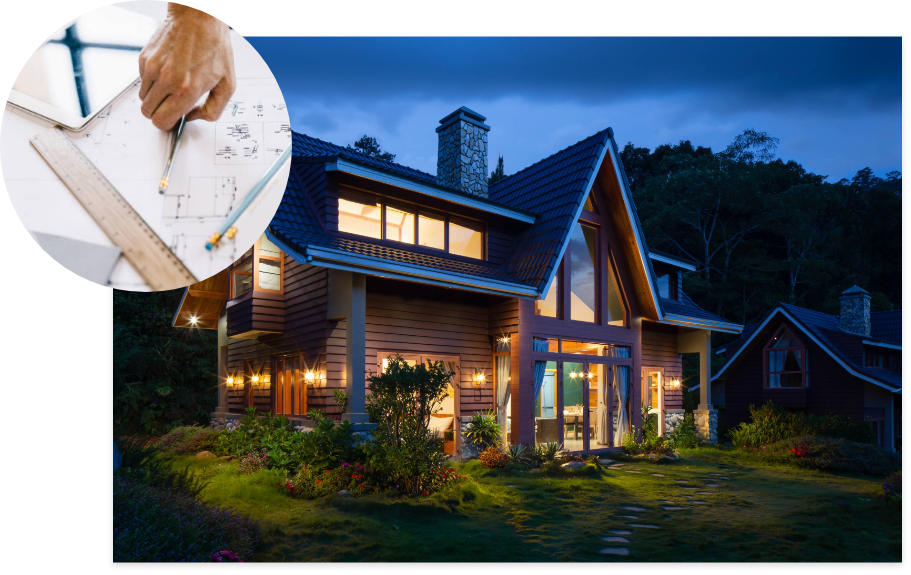 Retail Remodels & Insurance Support
In addition to working closely with homeowners and property managers on gorgeous, one-of-a-kind remodels, our expert team is also here to provide insurance support to help guide you through the claim process. If your home or property has suffered storm damage, we are here to assist with documentation and will even meet with the insurance adjuster on your behalf to ensure a successful result.
Once approved, our dedicated team performs the high-quality restoration work we've been known for for generations, on everything from roofing and siding to windows and doors.
Get Started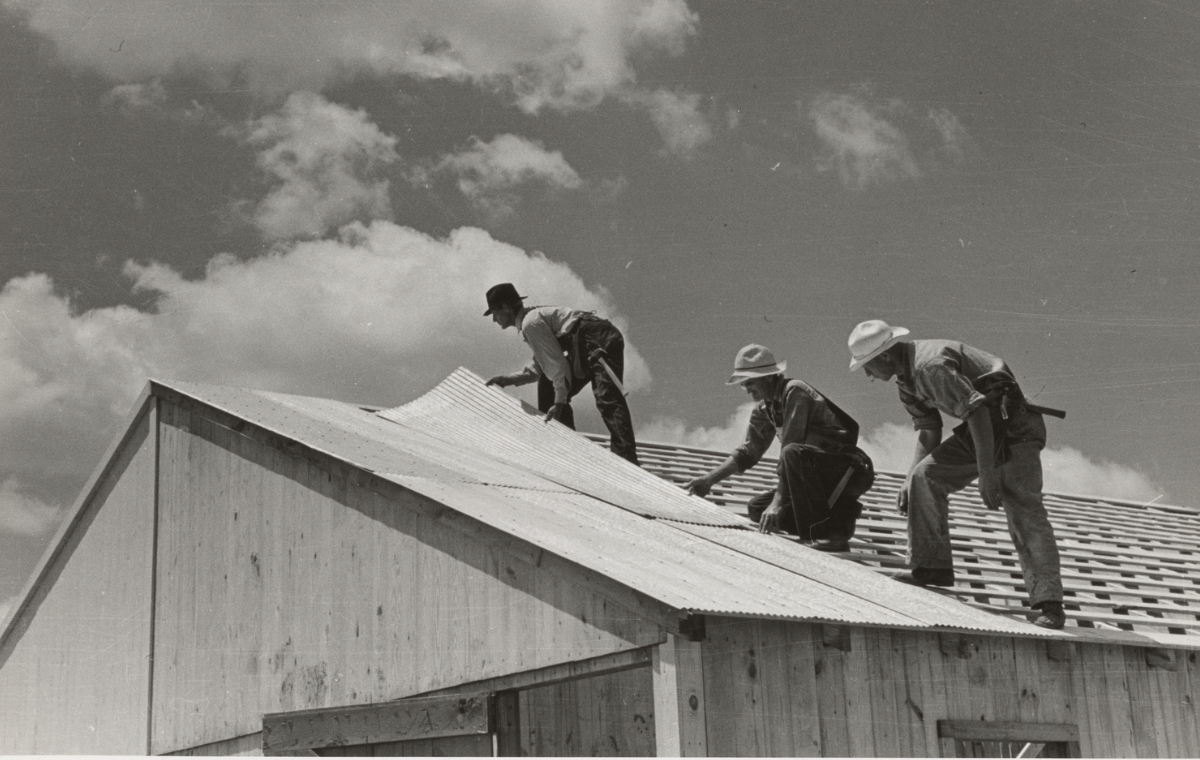 We Build Bigger
For generations, the Tacheny name has represented trustworthy, reliable, and high-quality work. The same is true today, as we are still a family-owned business truly concerned with the protection of our customers' most cherished possession: home.
We strive to build friendly, long-term partnerships with homeowners, identifying and providing the right solution for each and every situation. Whatever your needs may be, Tacheny Exteriors is here to provide an experience that's easy and a job done the right way from start to finish.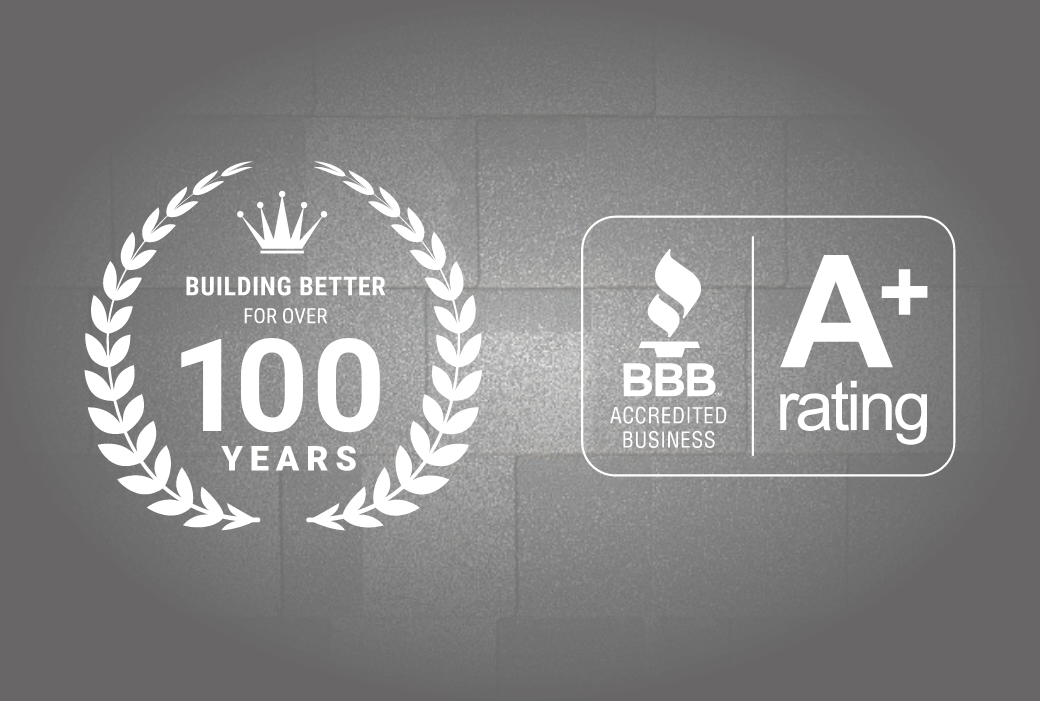 Why Tacheny?
Experienced & Licensed Contractors
Free, No-pressure Consultations
Family-owned Business with Family Values
Truly Concerned with Your Home's Look & Protection
Long-term Partnerships
Reliable, High-quality Work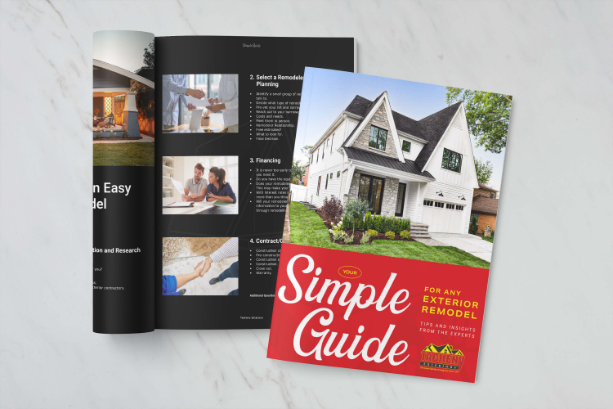 Free Homeowners Guide – "Your Simple Guide for Any Exterior Remodel"
When considering an exterior remodeling project–whether windows, siding, roofing, or a combination–folks often are unsure of where to begin. We created this easy-to-use guide to help you know what to look for and where to start.
Hear from Satisfied Homeowners
Thank you so much for the assistance and special effort with our house "makeover." We are very pleased with the outcome!
- Karla and Al
Thank you for the great job your crew did on replacing my dental office roof due to hail damage. The installers were extremely efficient and careful during the entire process and they left the site spotless at the end.
- Richard E. Kraft, DDS
Thanks for all the great work! The roof and gutters look terrific! I'm certainly recommending Tacheny Exteriors to my friends and neighbors.
- Tom Naughton
All around incredible: staff, communication, workmanship. Couldn't be more pleased with our experience!
- Kevin and Brook G.
Timely and professional! This company walked us through the entire process of selections, scheduling and we are so happy with our results. I would highly recommend using this company–we have referred family and friends and have only had more positive feedback! Thanks Tacheny Exteriors, we are obsessed with our new roof!
- Kathryn A.
Tacheny went to bat for us with insurance co. & streamlined the claim outcome. The crew was fast & efficient–very focused & professional. 2nd roof they've put on for us. Won't go to any other if we have a need again.
- Robert D.
My husband and I recently hired Tacheny Exteriors to replace shingles on our roof after a hail storm. The crew was incredible! Everyone from the scheduling team to the finance department were all super friendly, the work crew was on time, professional, and completed our entire roof in no time at all! The crew took care to walk our property and make sure everything was clean and orderly before they left and we love the way our new roof looks! Have already recommended this company to other family and friends and will continue to do so!
- Hannah K.
I worked with Sam, Dan, and their team to have our roof replaced due to hail damage. They did an absolutely amazing job all around. They were prompt and professional as they walked us through the whole process. Dan played a big part in helping us with our roof color and we couldn't be happier with the outcome. The roof looks beautiful. All in all a great experience and a great company to work with.
- Bret I.